Following
DePaolo's World
– "Thoughts and impressions on workers' compensation and life"
.
THANKS DAVID DEPAOLO, AND FRIENDS, FOR ALL THE GOOD YOU DO!  CARRY ON!
.
We are the Media Now, so we'll see what we can do to muster a few more nominations for the upcoming CompLaude Awards.  Tic Toc — due by 8/31/15.  Ok, We're on it!
The above picture is from the 2014 CompLaude Gala — yes, I was privileged to attend, as one of four InjuredWorker Nominated Finalists.
.
Yes, I took plenty of "heat" from the InjuredWorker community for attending.   I arrived early, and met many of the exhibitors, and even attempted to maintain contact with some.
.
We apparently scare them apparently as much as they can scare us.  'Can't we all just get along?  You could be next in the casualties of the mega billion dollar profitable WorkComp industries in America.'   We gotta convince them to change the business model  from "Profits Before Lives" to something more Millenial Friendly, wouldn't you agree?
.
NOW IS THE TIME FOR ALL PEOPLE OF GOODWILL TO COME TO THE AID OF HUMANITY.
.
Last year, the brilliant WorkCompCentral CompLaude event was California nominees only.
.
THIS YEAR, #WorkCompCentral has opened it to national nominations.  Next year —-perhaps will be the first international Comp Laude Awards — as our neighbors are experiencing the same tragic mis-handling of work place injuries as we are.
.
The Canadian, Australian and UK injured workers seem to have more of a pro-active fight against the bad stuff on social media and in the Courts, whereas the majority of industry peeps AND Injured Americans appear to be addicted and practicing learned helplessness at the hands of the not-so-nice perpetrators of the industry.  It's time for change.
.
FIND THOSE WORKING TO MAKE WORK COMP A SAFER SYSTEM FOR INJURED WORKERS EVERYWHERE, AND STRENGTHEN THEIR HANDS!   IF NOT YOU, THEN WHO? IF NOT NOW, THEN WHEN?
.
By the way, if any Injured Workers are interested in gathering there, with an Exhibit Table so they can see that we are human, and their industry failures have life and death consequences to real human beings, let me know know also by 8/31/15 and we'll see what we can pull together.
Maybe my employer, Wyndham Worldwide, or it's WorkComp Carrier, CNA, or their Defense Firm, Grancell Stander Reubens Thomas Kinsey will buy a booth and a table for an eclectic group of Injured Workers to facilitate participation?  My injury happened 1/9/12 —- TBI — and you know how that's going.  You too, huh?  
.
Well, if we cannot attend the gala, we can certainly #OccupyVirtually — lots of pictures and tweeting happen at the all day event!  
.
MARK YOUR CALENDAR; SATURDAY, DECEMBER 5, 2015.  SAVE THE DATE. 
.
~~~~~~~~~~~~~~~~~~~~~~~~~~~~~~~~~
.
https://www.workcompcentral.com//events/nominations
Description of Comp Laude™ Awards Nomination Categories
.
The following five categories are restricted to INDIVIDUAL (PERSON) NOMINATIONS:
.
Medical Comp Laude – can be a physician, a surgeon, a nurse, a physical therapist, a pain management specialist, acupuncturist, chiropractor, etc. Anyone with a professional designation in the MEDICAL field.
Legal Comp Laude – a Judge / judicial officer, applicants' attorney, defense attorney, etc. Anyone with a professional designation in the LEGAL field.
Individual Comp Laude – Any individual (person) who is not a medical or legal professional but carries some designation as a workers' comp professional; i.e. a Risk Manager, Human Resources Manager, Hearing Rep, Lien Rep, Safety Coordinator; Occupational Specialist; claims adjuster; RTW / SAW coordinator; bill reviewer; etc. Anyone with a professional designation in the workers' compensation industry that is not in the medical or legal profession.
Injured Worker Comp Laude – Any individual who has been injured on the job.
Leadership Comp Laude – Any person who is considered an industry mentor / expert professional / speaker / educator / presenter.
The following two categories are restricted to COMPANY NOMINATIONS:
Employer Comp Laude – A public or private employer company.
Service Comp Laude – Any company that provides services related to the workers' compensation industry: legal firm, managed care company; insurance carrier; medical practice (physician group, nurse case management, physical therapy); Pharmacy Benefit Management (PBM); Third Party Administrator (TPA); Medical Bill Review Services; Medical Supplies; language / translation; copy services, etc.
Remember: The nomination deadline for the #CompLaude Awards is approaching! Nominate NOW at: http://ow.ly/Qxat3 
COMP LAUDE™ AWARDS & GALA
Thank you for your interest in the Comp Laude™ Awards!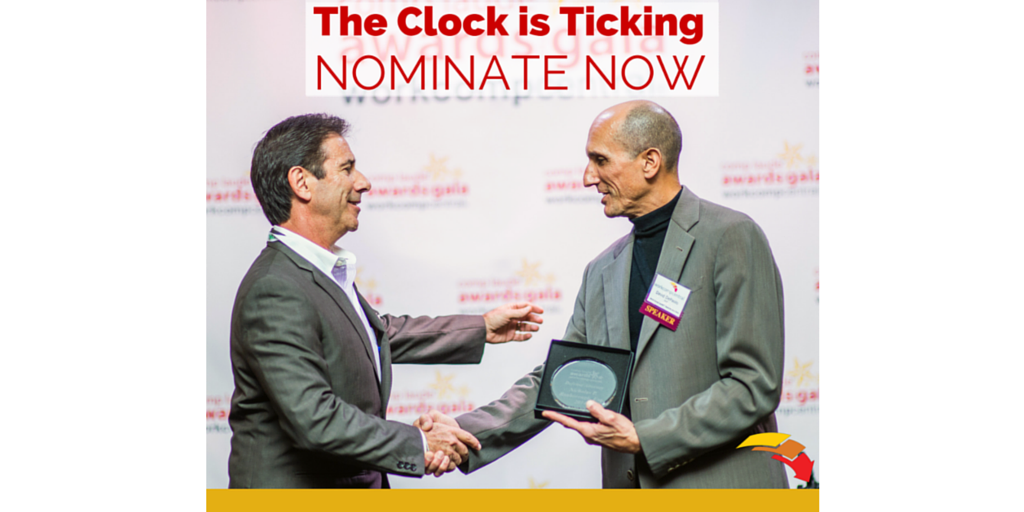 Before you can make a nomination, WorkCompCentral asks that you login to their website and create an account.  Just do it.  If you have survived WorkComp, then you survive another login account and passcode.  Remember, nominations are due by 8/31/15…. and you have to name people, and write something nice about them on the nomination form.  Start thinking, thanks.
MEDICAL COMP LAUDE
LEGAL COMP LAUDE
INDIVIDUAL COMP LAUDE
INJURED WORKER COMP LAUDE
LEADERSHIP COMP LAUDE
Company Nominations:
Employer Comp Laude
Service Comp Laude
~~~~~~~~~~~~~~~~~
THINK LOCALLY * ACT GLOBALLY * OCCUPY VIRTUALLY
This has been a PSA-Public Service Message to/for/and on behalf of Injured Workers Everywhere!
WE ARE THE MEDIA NOW; BE CREATIVE!!!